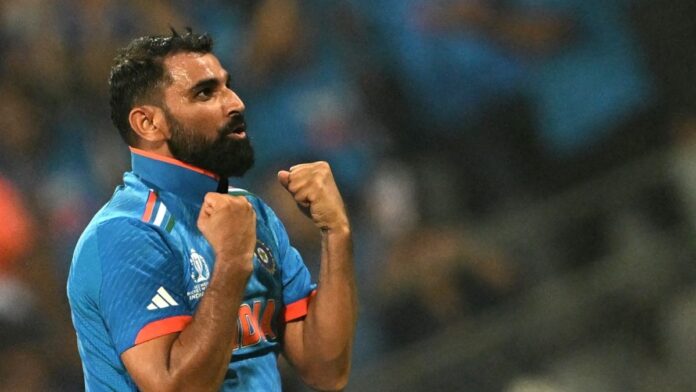 As Mohammed Shami walked back to the top of his run-up, Virat Kohli geed the fans at the Wankhede Stadium to go full throat with their chants – Shaamii! Shaamii! They obliged merrily. It was a visible validation of Shami's status in this World Cup – India's superstar with the ball, the bowling equivalent of Kohli with the bat. It wasn't just because of his immaculate effort against New Zealand on Wednesday night, but now Shami is a single man force de frappe, even ahead of Jasprit Bumrah.
His numbers do back that position. Shami has taken 23 wickets from six matches, including three fifers, at a mind-boggling strike-rate of 10.9, easily the best in this tournament on those two counts.
But then the numbers don't tell the whole story either.
Shami was not even part of the playing 11 in the first four matches because of India's desire to field a batting all-rounder at No. 8, an additional security measure to counter any top-order dysfunction.
In line with that thought, R Ashwin was included in the match against Australia, while Shardul Thakur played against Pakistan, Afghanistan and Bangladesh.
It required a force majeure – Hardik Pandya's injury against Bangladesh – for the Indian management to shake away their obsession.
They needed to find a batsman and bowler in place of absent all-rounder Pandya for the match against New Zealand at Dharamsala.
Shami came to the picture then and made an instant impression against the Kiwis with a five-wicket haul.
It was also a huge credit to Shami's mindset to come back from a frustrating time at the sidelines and perform against top-class opposition.
India's batting coach Vikram Rathour said as much.
"Shami is a special bowler, and he is bowling really well. It was tough to get him into the team because of team combination. But he was in a great mind-space even when he was not playing," said Rathour.
Shami chose the same opposition to make an impact on an even bigger occasion at Mumbai – the World Cup semifinals.
New Zealand were chasing 398 alright, but a smooth Wankhede pitch and deep batting line-up of the opposition meant that India could not afford to relax. They needed wickets to maintain the pressure.
Shami gave them the perfect start, dismissing Devon Conway and Rachin Ravindra caught behind by KL Rahul – the former was snared with one that went away wee bit, while the latter fell to the one that came in just enough.
However, India were pushed onto the backfoot after Kane Williamson and Daryl Mitchell milked 181 runs for the third wicket. The Black Caps were more than a good shout away from the victory then.
Rohit brought back Shami in the 33rd over. Williamson could not find the distance off a Shami delivery that rushed on to him from a length and in the next ball Tom Latham fell leg before to a ball that skidded back with the angle.
It is this variety in his bowling that makes Shami a big threat.
Mohammed Badaruddin, Shami's childhood coach, threw some light into that.
"You watch any of his dismissals, he does not bowl all that wobble seam deliveries or he does not hit the pitch hard. Watch that dismissal of Conway last night, you'll get it.
"His seam is always up and has a perfect release. He can skid the balls off the surface at a good pace from the same slot — tough for batters to pick which one will come in or go out.
"These are natural abilities and he is willing to work hours on his skills – ability and hard work are certain to bring success," tells Badaruddin.
Bumrah often tries to lure the batsmen into mistake with his line around the off-stump, whereas Shami is relentless in his attack on the stumps. Perhaps, no other contemporary bowler does that as often as Shami.
Williamson, who is also his teammate at Gujarat Titans, underscored that fact.
"He is, without a doubt, one of the top operators in the world and the way he moves the ball and he keeps bringing the stumps into play. It has been quite phenomenal," said Williamson.
There is another facet to Shami's bowling, his effectiveness against left-handed batters. Out of his 23 victims, eight are of that type and are from the top draw too – Conway, Ravindra, Latham, Ben Stokes and so on.
He averages a miserly four against the southpaws in this tournament.
India will either meet Australia or South Africa in the final on Sunday, and both the teams have prolific left-handers in David Warner and Quinton de Kock.
They will know that a Shami storm is awaiting them in Ahmedabad.